Flexible Payments is exclusive to George.com. It's a simple and secure way to shop on George.com that provides an ongoing credit account enabling you to spread the cost of your purchases using your Asda Flexible Payments account.
Setting up an account involves a quick and easy online application. You'll get an instant decision and then enjoy 90 days' interest-free credit from the date of opening your account.
How do I set up and use my Flexible Payments account?
When you have signed up with Asda Flexible Payments, you will have the option to use your account at the checkout. To keep control of your account you can choose to make payments by Direct Debit for either the full, minimum or an amount of your choice each month.
You can also make additional payments at any time and you'll receive a monthly statement showing you your balance, minimum payment amount and due date. See below for how to apply and sign up.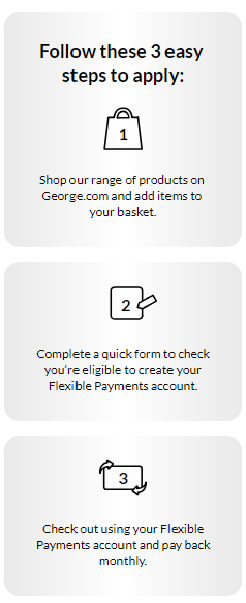 Managing your Asda Flexible Payments account
Log in to your Flexible Payments account through your George.com account to view your transactions and payments, make extra payments and let us know about any changes. Also, if you need them, you'll find help pages here and you can chat to our dedicated team.
If you need to contact us, please use the options below:
Chat to the team by clicking here.
Give us a call on 0330 027 1400
The team are contactable Monday to Thursday from 8.30am to 8pm, Fridays from 8.30am to 5pm and Saturdays from 9am to 4pm. Please note that this number is for Asda Flexible Payments enquiries only. Please do not use this number for any other enquiries.