Apply an eVoucher
How do I apply an eVoucher?
If you are an existing account holder and have signed in, your evoucher will be automatically applied at checkout, however, you do have the option to remove this and use it another time if you would prefer.
If you do not have an existing account, you can apply an eVoucher in the 'Payment' section of the checkout. Select 'Apply an eVoucher' and enter your 10 or 16 digit code, then click 'Validate'.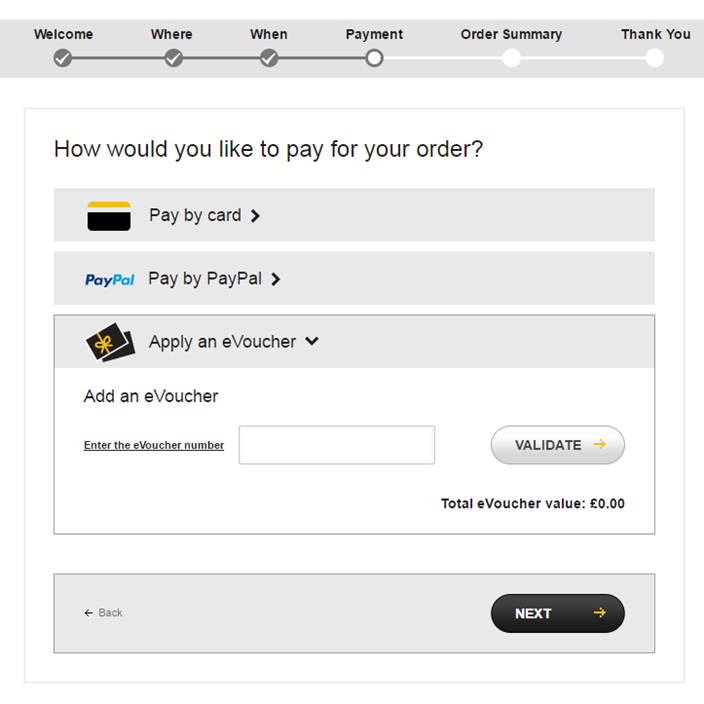 Do I have to use the full value of my eVoucher?
Should you choose to apply an eVoucher, the full amount will be applied, however, if your order totals less than this amount, the remainder balance will still be applicable for you to use on your next order.
Can I use more than one eVoucher?
Yes, you can add multiple eVouchers on the same order.
Can I use my eVoucher in store?
No, eVouchers can only be used for online shopping
How long is my eVoucher valid for?
Your eVoucher is valid for 90 days from the day of issue.
Your rating has been submitted; please tell us how we can make this answer more useful.
---